ILANA VERED, Piano Judge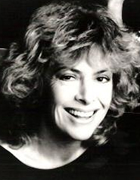 Born in Israel, Ilana Vered graduated from the Paris Conservatory at the age of 15 and completed her studies at the Juilliard School in New York City. She made her debut as one of the first winners of the Young Concert Artists International Competition. Heard in recital in virtually all of the music centers of the world, Miss Vered performed with, among others, the Chicago, San Francisco, London and Japan NHK Symphonies, and the New York, Los Angeles, Royal, Munich and Israel Philharmonics. She has recorded the concertos of Beethoven, Mozart, Chopin, Brahms, Tchaikovsky and Rachmaninov, in addition to etudes by Chopin, Moszkowski, Schumann, Liszt and Debussy for the London label.

She recorded the complete set of Beethoven's five piano concertos with the Warsaw Philharmonic under the baton of Kazimierz Kord, released in late 1993 by the prorate label which represented the culmination of Miss Vered's long association with the Beethoven concertos – works she has always regarded as the cornerstone of the concerto repertoire. "I have lived with these great concertos for many years, and it was a thrill for me finally to record them," Miss Vered asserts. "I am always struck by the way the wonderful slow movements of these works proceed out of a kind of all-knowing inner necessity-like a reflective soul caught between the magnificent 'rubble' of the outer movements, in which Beethoven seems to topple huge blocks of sound in a defiant affirmation of joy and humanity." A regular participant in summer festivals, including Mostly Mozart and Tanglewood, Miss Vered is also the musical director of the "Piano Fest Perugi," a vibrant new international music festival in which all students play with orchestra and appear in recitals. A sought-after teacher, she was featured in The Most Wanted Piano Teachers in the USA and conducts regular master classes at institutions such as Carnegie Mellon in Pittsburgh and the University of South Carolina.
Back...