José Iturbi Info
José Iturbi Biography
Born: November 28, 1895 (Valencia, Spain)
Died: June 28, 1980 (Beverly Hills, California, USA)
José Iturbi was recognized as the world's greatest classical pianist during the 1930's – 1970's. José Iturbi was the world's most popular classical musician from the 1930's until his death.
Iturbi's talent was recognized at an early age. He started piano lessons at age 3, and graduated with first prize honors from the Valencia Music Conservatory at 14 years old. Iturbi received a scholarship to study at the Paris Music Conservatory where he spent his days as a serious student and his nights playing in a Paris café in return for one meal a day, a space to sleep in the café store room after hours, and a few francs. Iturbi always tried to find ways to make ends meet. No matter how difficult times were, Iturbi was determined to remain in the greatest cultural center of Europe – Paris.

In 1913, Iturbi graduated from the Paris Music Conservatory with the first of all first prize honors. He then held the chair of Professor of Piano Virtuosity at the Geneva Conservatory of Music in Switzerland (a post once held by Franz Liszt) for six years until his concert engagements became too numerous to permit his required teaching schedule.

Throughout his long career, José Iturbi concertized to adoring fans and sold-out audiences in every corner of the world. It was commonplace at Iturbi's concerts for the overfl ow audience to be seated on stage. This remained his standard from the 1920's and for the next five decades through the 1970's! Excitement always accompanied Iturbi on his concert tours!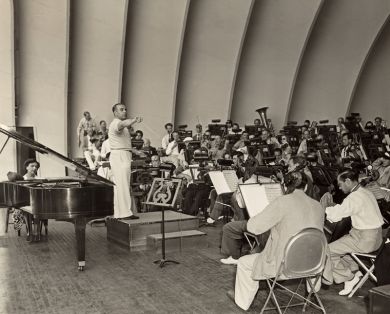 Hollywood Bowl Rehearsal: José Iturbi conducting the Hollywood Bowl Orchestra with his sister Amparo at the piano performing Rachmaninoff's Piano Concert No. 2, summer 1948. The combination of José, Amparo and Rachmaninoff created an instantly sold out performance complete with a traffi c jam on the streets of Hollywood leading to the Hollywood Bowl. The Hollywood Bowl has traditionally started all performances no more than fi ve to ten minutes late due to traffi c delays;José and Amparo Iturbi's performance started thirty minutes late!
HOLLYWOOD AND "THE MOVIES"
Iturbi said his first interest in motion pictures came when he was just a small boy of seven years old. To help make ends meet for his family, Iturbi played piano accompaniment to silent films at the neighborhood theatre in his hometown of Valencia, Spain. He began work everyday at 2 pm and played straight through a twelve hour shift until 2 am. This was a rigorous schedule for anyone let alone a seven year old boy.
Young Iturbi enjoyed making his music fit the different moods portrayed by the actors up on the screen, and he even changed his background music every performance to give it variety!
Everyday, Iturbi used to wonder about those actors each time he looked up at the screen and think of what fun they must have had filming these "flickers".


"I entered pictures because, first of all, I thought I'd enjoy it – which I did! And, second, I felt that classical music should be a more recognizable part of everyman's entertainment, and it has been my great hope that through motion pictures a larger group of people would learn to like classical music and attend live concert performances", José Iturbi, 1945!

José Iturbi enjoyed making seven movies at Metro-Goldwyn-Mayer. In each of these films, Iturbi always played himself. He was known as José Iturbi, Maestro Iturbi, and sometimes, José. His most popular films include: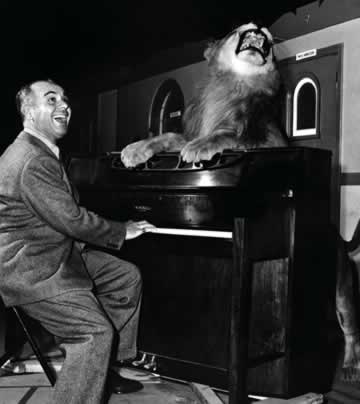 José Iturbi in a studio publicity shot accompanying the MGM lion, circa 1940. José's parts included cameo appearances, important support and leading man roles. Whatever part he played, the movie roles all had two things in common - Iturbi was never far from a piano or an orchestra, and he always played himself, José Iturbi. He appeared in seven MGM movies. They included Iturbi performing music from famous classical composers, popular melodies, jazz and even the boogie-woogie.
That Midnight Kiss (1949)
Three Daring Daughters (1948)
Music for Millions (1944)
Two Girls and a Sailor (1944)
In 1945, José Iturbi agreed to provide the riveting piano score to Frederic Chopin's highly romanticized life in Columbia Pictures', "A Song to Remember", starring Paul Muni, Merle Oberon and Cornel Wilde. The public never saw Iturbi on film but they went wild for his rendition of Chopin's greatest known piano repertoire. Iturbi's legions of fans helped propel the movie's popularity and sold more than one million copies.



SALE OF ONE MILLION RECORDS
José Iturbi was the first classical artist to break all classical recording sales and reach the sale
of one million copies of a single record. Thanks to Iturbi's legions of fans, he did it twice
and received two gold records for his "Polonaise in A Flat"(Military Polonaise) by Chopin in 1950, and
"Clair de Lune" by Debussy in 1953.

WALK OF FAME STAR
Iturbi was the first classical musician to receive a star on Hollywood's world-famous Walk of Fame on Hollywood Boulevard for the sale of one million copies of his Chopin and Debussy recordings. Many may have thought that it would have been Elvis Presley or the Beatles to have received this distinction, but it was José Iturbi!


JOSÉ ITURBI'S MUSICAL BACKGROUND WAS EXTRAORDINARY.
His all-encompassing musicianship and knowledge of composition and orchestration is unsurpassed by any musician, even today. Interestingly, Iturbi was the first leading pianist to bring back an ancient custom of playing and conducting all concerti simultaneously from the piano.

Iturbi's life has been associated with all of the great names of classical music in his era. He personally knew Fauré, Albéniz, Turina, Prokofiev, Ravel, Rubenstein, Heifitz, Toscanini, Mitropoulos, Beecham, Furtwaengler, Koussevitsky, Monteux, de Falla, Gershwin, Poulenc, and Stravinsky, to name a few. Iturbi enjoyed performing all types of piano music and was one of the first pianists and conductors to perform contemporary music of the day. Iturbi even enjoyed playing a good boogie-woogie!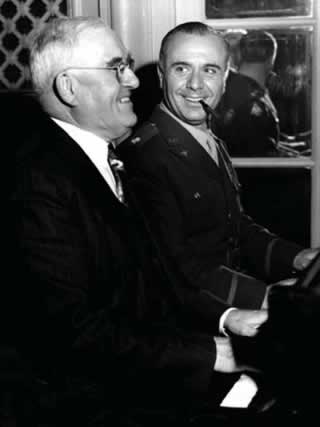 Old friends, President Harry S. Truman and
José Iturbi enjoy a musical moment playing chopsticks, 1947.


Iturbi enjoyed long term friendships with many of Hollywood's golden era greats. Throughout the years, he socialized with Kathryn Grayson, Gene Kelly, Frank Sinatra, Mary Astor, Countess Dorthy diFrasso, Rita Hayworth, Orsen Wells, Mickey Rooney, Judy Garland, Red Skelton, Eleanor Powell, Edward G. Robinson, Clark Gable, Ethyl Barrymore, Mario Lanza, Walter Pidgeon, Roddy McDowall, Xavier Cougat, Jane Powell, Margaret O'Brien, Jimmy Durante, Cary Grant, June Allyson, Van Johnson, Lena Horne, Lucille Ball and Desi Arnaz, George Burns and Gracie Allen, Jean and Dusty Negulesco, Joe Pasternak, Dorry Sherry, George and Lillian Sidney, and many more.
José Iturbi is the holder of hundreds of international awards and the "keys" to many of the world's greatest cities, including the French Legion of Honor, Alfonso X (Spain), St. Georges (Greece), Gold Medal of Labor and the Quevedo Gold Medal for the Arts – Spanish Nobel Prize (Spain), honors from U.S. President Harry Truman and the Distinguished Service Citation of America.


"A MUSICIAN'S MUSICIAN"
José Iturbi has been called "A Musician's Musician" with just cause. He was a composer, performer and conductor of international acclaim. He was the most diversified of performing musicians, the most complete of his generation and the century!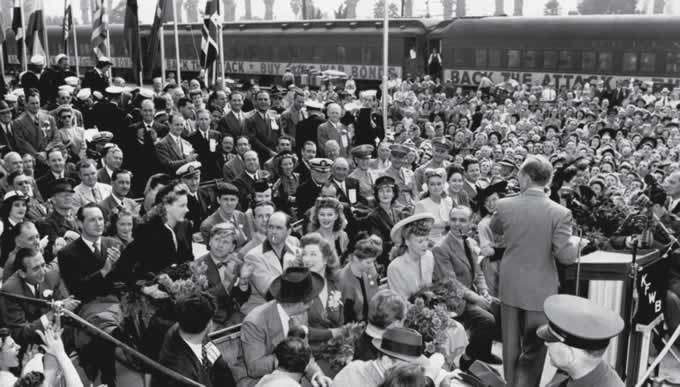 José Iturbi joined the "Hollywood Bond Cavalcade" (Hollywood Bondardiers) during the WW II war bond sales nationwide tour. They toured in a special red, white and blue train, performing in 16 cities, performing to more than seven million people and raising more than one billion dollars - in 1943 currency! José Iturbi played at all the appearances while Fred Astaire danced and Harpo Marx clowned on top of the piano. Iturbi accompanied Judy Garland, Kathryn Grayson and Betty Hutton in popular standards. Seen in the audience: Judy Garland, Greer Garson, Mickey Rooney, Fred Astaire, Dick Powell, James Cagney, Kathryn Grayson, Betty Hutton, Lucille Ball, José Iturbi, Rita Hayworth, Fred Astaire, Harpo Marx, Paul Henreid, Susan Hayward, Kay Kyser and His Orchestra. 1943.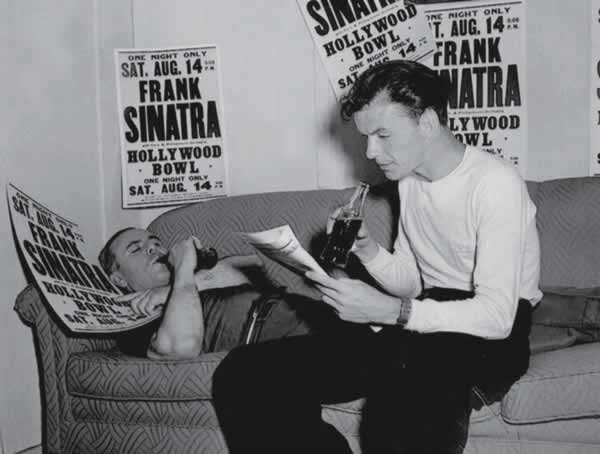 José Iturbi and Frank Sinatra drinking Coca- Cola and relaxing in a private moment before the evening's performance at the Hollywood Bowl, August 14, 1946. They began their life long friendship on the set of MGM's "Anchors Aweigh" (1945). Both famous artists, Iturbi and Sinatra enjoyed playing practical jokes. They shared a great friendship and camaraderie for more than thirty years, until Iturbi's death in 1980.