BRUCE SUTHERLAND, Piano Judge
"You [Bruce Sutherland] are a musician!"
Gian Francesco Malipiero, twentieth century master composer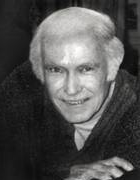 Bruce Sutherland, noted American musician, first gained world recognition as a composer in the International Gottschalk Competition in New Orleans. José Iturbi, conducting the Bridgeport Symphony in a 25th Anniversary Concert with David Bar-Illan as piano soloist, presented the world premiere of Sutherland's prizewinning score, Allegro Fanfara for orchestra. Twentieth century master composers, including Castelnuovo-Tedesco, Dallapiccola, Petrassi, and Malipiero, contributed words of praise (perhaps best summed up by Malipiero's succinct evaluation: "You are a musician!") to those of the critics for Sutherland's "compelling music".

Sutherland's debut as piano soloist was radio broadcast with James Sample conducting the KFI Symphony in a performance of Nights In The Gardens Of Spain by de Falla, a work currently available in a definitive and recently released CD recording by Amparo Iturbi with José Iturbi conducting the Orchestre Colonne (Paris). This repertoire pinpoints a link to Sutherland's pianistic background and studies with two world famous women pianists of the century: Amparo Iturbi and Ethel Leginska. With both teachers the de Falla served as a work for study and performance. José Iturbi once asked Sutherland what teachers, if any, preceded his sister, Amparo. Upon hearing Leginska's name, José smiled and said, "Ah, the great pianist."

Wide musical interests led Sutherland later to concertize and also tour as harpsichord soloist with the Telemann Trio. This love of the harpsichord preceded association with the Iturbis but was reinforced by their love of the instrument, where Pleyel harpsichords were very much in evidence in their homes.

Sutherland has gained particular recognition as the teacher and mentor of numerous young pianists and musicians who have become international prizewinners. Among them are those whose compositions and performances have been acclaimed in recordings (including two Grand Prix du Disque awards), as well as at Music Festivals in this country, such as Marlboro, Ravinia, Aspen, La Jolla, Santa Fe, and Tanglewood and in prestigious European Festivals as well.

In addition, his students have been prominent in major concert halls around the world, including Alice Tully Hall, Avery Fischer Hall, Carnegie Hall, 92d Street Y (New York City), Kennedy Center (Washington, DC), Ambassador, Disney Hall, Dorothy Chandler Pavilion, Hollywood Bowl, Royce Hall (Los Angeles), Theatre des Champs-Elysees (Paris) Barbicon Hall, Wigmore Hall (London), as well as most other major concert halls in Europe, Asia, and the
world.

Sutherland has received recognition six times from the National Foundation for Advancement in the Arts and was honored in the nation's capitol by the White House Commission on Presidential Scholars as a "Distinguished Teacher". He is listed in the following major reference works: American Keyboard Artists, International Who's Who in Music, Who's Who in American Music, Who's Who in America, and Who's Who in the World, among others.
In 1997, Sutherland founded AMRON (Artist Musician Recital Opportunity Network) as a means of providing support for current and future musical talent through the channels of the foundation as well as a tribute to his pianist mother, using the letters of her first name, Norma, in retrogade as a logo. AMRON's innaugural event presented the 1997 winner of the Dublin International Piano Competition, Max Levinson, in his Los Angeles debut recital and first California appearance following the competition. The sold-out house included the Los Angeles Times press and a distinguished audience at the Skirball Cultural Center's Magnin Auditorium.