VLADIMIR VIARDO, Piano Judge
"Conducting allows me to have a better understanding of the symphonic mentality and instrumental timbre that lies within all piano creations."
Vladimir Viardo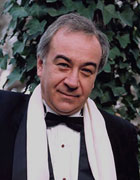 Renowned pianist Vladimir Viardo, highly acclaimed for his masterful interpretations of composers from all eras, was born in the Caucasus Mountains near the Black Sea. As a young aspiring artist he moved to Moscow to study with Professor Lev Naumov at the Moscow Conservatory, where he was taught the methods of the legendary Heinrich Neuhaus. Within six years of study, he received his doctorate degree and was appointed Associate Professor to Naumov. That same year he was tenured as a soloist by the Moscow Philharmonia.

Viardo was first brought to international acclaim in 1971 after winning the "Grand Prix" and "Prix du Prince Rainier" in the Maguerite Long/Jacques Thibaud Competition held in Paris. In 1973, he was the top prizewinner of the Van Cliburn Competition, where he also won a special prize for Rachmaninoff and Contemporary Works and subsequently received concert contracts for over seventy recitals and appearances with symphony orchestras in major U.S. cities. But after having his travel visa revoked, Maestro Viardo was prevented from carrying on his musical career outside the USSR for fourteen years.

During his confinement he expanded the foundation of his musical knowledge and enlarged his repertoire to include 37 concerti. It wasn't until the new era of "Glastnost" and "Perestroika" that the distinguished pianist was able to bring his music to the rest of the world. Since resuming his international career, Vladimir Viardo has met with extremely enthusiastic reviews and has become one of the most sought-after pianists in the world, performing in such major venues as Lincoln and Kennedy Centers, Carnegie Hall, the Concertgebouw, and the Great Hall of Moscow Conservatory.
He has appeared as soloist with the conductors Mehta, Maazel, Penderecki, Mata, Kondrashin, Comissiona,
and Krivine, among many others. Immediately after concertizing with the Dallas Symphony, Maestro Viardo was offered the position of Professor – Artist in Residence at the University of North Texas, where he is dedicated to developing a selective class of artistically gifted students

from countries such as Russia, Ukraine, Taiwan, Portugal, Finland, and the USA, who include laureates of the world's major competitions. He is the founder of the Viardo Foundation, committed to providing financial assistance to his promising students during their years of collegiate study, and he is listed among "The Most Wanted Piano Teachers in the U.S.A." Viardo's recordings include the Third Concerto of Rachmaninoff and solo works of Rachmaninoff, Medtner, Karamanov, Shostakovich, Liszt, and Debussy.

He has also taken great interest in conducting, stating, "Conducting allows me to have a better understanding of the symphonic mentality and instrumental timbre that lies within all piano creations." He recently conducted his orchestration of Shostakovich's Second Piano Sonata with the Kiev Philharmonic.