OXANA YABLOSKAYA, Piano Judge

"Yablonskaya is the sort of pianist who accomplishes with ease and naturalness what others struggle for a lifetime to achieve."
The Daily Telegraph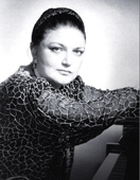 Oxana Yablonskaya was born in Moscow. As an adolescent she attended The Moscow Central School for the Gifted under the tutelage of Anaida Sumbatyan (who also taught Vladimir Ashkenazy) with whom she worked until the age of 16. She later studied at the Conservatory of Moscow with the legendary Aleksandre Goldenweiser. At 22, she began a professional relationship with Tatiana Nikolayeva in the Doctorate Program, later acting as her assistant at the Moscow Conservatory. Following graduation with high honors, she was introduced to the Western World in Paris at the Jacques Long- Thibaud Competition in 1963, the Rio de Janeiro Competition in 1965, and the Vienna Beethoven Competition in 1969. She won top prizes in all three competitions, and received numerous invitations for return engagements.

While still in the USSR, Ms. Yablonskaya performed Shostakovich's Piano Concerto No. 1 with the Moscow Philharmonic under conductor Y. Simonov at the Composers Jubilee Concert in the Kremlin.
She recorded for the Melodya label and earned the prestigious title of Soloist of the Moscow Philharmonic. The title put her in the company of elite artists such as Gilels, Richter, Rostropovich, Oistrakh and Kogan. Outstanding solo performances with the Bolshoi Orchestra, the Moscow Stars series, and the Shostokovich 65th Birthday Celebration Concert were confirmations of her remarkable talent.

In 1975, distressed over constant restraints on her personal and artistic freedom, she applied for a U.S. visa. After 2 years she was allowed to leave the country with her father and young son due to the diligence and petitioning by over 45 famous writers, musicians, senators, and actors.

Ms. Yablonskaya arrived in New York in 1977. She made her first New York appearance in a recital at the Alice Tully Hall in Lincoln Center only four months later, and received laudatory acclaim from the press. Her Carnegie Hall debut recital the following October was attended by a capacity crowd.. Once considered 'The best kept secret of the Soviet Union,' Ms. Yablonskaya has now performed in more than 40 countries.

An extraordinary recitalist, she is equally renowned for solo performances with orchestras such as: BBC Philharmonic, Bolshoi Orchestra, Berlin Radio Symphony, Sinfonia Brasileira, Royal Concertgebouw, Singapore Symphony, Hong Kong Symphony, State Orchestra of the USSR, Sydney Symphony, Moscow Philharmonic, Tokyo Philharmonic, Moscow Symphony, Vienna Radio Symphony, Warsaw Radio Symphony, Taipei City Symphony, National Symphony Orchestra S. Africa, Nordwestdeutsche Philharmonie.

Ms. Yablonskaya has collaborated in performances with celebrated conductors such as: A. Anissimov, Y. Aronovitch, R. Barshai, H. Bloomstaadt, B. Brott, A. Chavez, S. Comissiona, F. P. Decker, A. Dmitriev, L. Foster, Y. Forst, P. Gamba, F. Gluschenko, Inbal, A. Katz, A. Kersies, Dmitry Kitaenko, Eric Klaas, Kirill Kondrashin, U. Maier, Fuat Mansurov, Nathan Rakhlin, M. Rostropovitch, G. Rozhdestvensky, Y. Simonov, S. Skrowachevsky, P. Sorokin, Y. Svetlanov, Y.Turowsky, V. Yampolsky.

In addition to her success as a concert pianist and recording artist, Ms. Yablonskaya has held the position of Professor of Piano at The Julliard School in New York City since 1983. Dr.Yablonskaya is a Co- Founder of Puigcerda Musica Clasica International Festival in Spain since 1998.

Ms. Yablonskaya also serves on the jury of many international piano competitions. Among her numerous recordings, Ms. Yablonskaya's Liszt/Schubert CD won the Grand Prix du Disque from the International Liszt Society in Budapest.