MARVELLE CARIAGA, Voice Judge
"It was impossible to take one's eyes off of her. She made the Narrative electrifying."
Time Magazine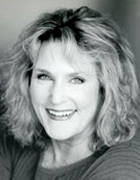 During Marvellee Cariaga's long career spanning 40 years, she was universally acclaimed as an exceptional artist who repeatedly demonstrated her vocal and dramatic expertise throughout the United States, Canada, Europe, and South and Central America.

She was a regular member of leading opera companies of the Netherlands, San Francisco, Seattle, Los Angeles, San Diego, Pittsburgh, Vancouver, Rio de Janeiro, Bogota, Colombia, Hawaii, Portland, and many others where she sang Wagner and Verdi heroines such as Brunnhilde, Ortrud, Venus, Kundry, Fricka, Waltraute, Amneris, Azucena, Lady Macbeth, and Mascagni's Santuzza.

She became legendary for her performances of Magda Sorel in Gian Carlo Menotti's opera The Consul which was broadcast on PBS-TV for the Spoleto Festival and other venues throughout the US and Europe. Washington Post: "a singing actress worthy of the highest accolades.", Opera World: "It was impossible to take one's eyes off of her. She made the Narrative electrifying." Time Magazine: "A lustrous mezzo voice. Her ability to convey Magda's growing agony is harrowing." Opera Review: " a voice of stabbing beauty." New York Times: "quite simply superb." Baltimore Sun: " She is endowed with a beautiful voice. Her tone color was radiant."

She has been directed by many of the world's leading authorities, including Wolf-Siegfried Wagner, (great grandson of Richard Wagner), Gian Carlo Menotti, Stephen Wadsworth, Jonathan Miller, Sir Peter Hall, Fabrizio Melano in collaboration with Franco Zefferelli, George London, and Norman Ayrton.

She has triumphed in her performances as guest soloist with such leading orchestras as Philadelphia (Verdi Requiem in Carnegie Hall with Eugene Ormandy), New York Daily News: "The best solo singing by far was from Marvellee Cariaga." Pittsburgh (Bluebeards Castle), Denver, Hawaii, Los Angeles Philharmonic, San Antonio, Buffalo, Rochester (David Zinman), San Diego, Virginia Symphony, New Jersey Symphony, etc, and various European orchestras. Repertoire included Mahler Cycles, Lied von der Erde, Beethoven, Mozart, Prokofieff, Bartok, Schoenberg, and 20th century works.