LALO SCHIFRIN, Piano Judge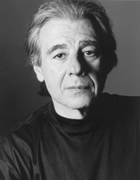 Lalo Schifrin is a true Renaissance man. As a pianist, composer and conductor, he is equally at home conducting a symphony orchestra, performing at an international jazz festival, scoring a film or television show, or creating works for the Los Angeles Chamber Orchestra, the London Philharmonic and even The Sultan of Oman.

It is Mr. Schifrin's ability to switch musical gears which makes him so unique in the music world. As a jazz musician he has performed and recorded with great personalities such as Dizzy Gillespie, Sarah Vaughan, Ella Fitzgerald, Stan Getz, Count Basie, Jon Faddis, James Moody, Louie Bellson, and Kenny Burrell. In the classical composition field, he has more than 60 works.

Among Mr. Schifrin's conducting credits are the London Symphony Orchestra, the London Philharmonic Orchestra, the Vienna Symphony Orchestra, the Paris Philharmonic Orchestra, for which he was appointed Musical Director for 5 years, the Los Angeles Philharmonic, the Israel Philharmonic, the Mexico Philharmonic, the Houston Symphony Orchestra, the Los Angeles Chamber Orchestra, the Mexico City Philharmonic, the Atlanta Symphony Orchestra, the Orchestra of Saint Luke (New York City), the National Symphony Orchestra of Argentina, the Sydney Symphony Orchestra and the Lincoln Center Chamber Orchestra.

Mr. Schifrin has written more than 100 scores for film and television and is recognized as being one of the most talented and significant contributors to film music throughout the past 40 years. Among the classic scores are "Mission Impossible," "Mannix," "The Fox," "Cool Hand Luke," "Bullitt," "Dirty Harry," "The Cincinnati Kid," and "Amityville Horror." Recent film scores include "Tango," "Rush Hour," "Rush Hour 2," "Rush Hour 3," "Bringing Down The House," "The Bridge of San Luis Rey," "After the Sunset," and "Abominable."

To date, Mr. Schifrin has won four GRAMMY ® Awards, one Cable Ace Award, and has received six Oscar nominations. In addition to current commissions and film scoring activities, Mr. Schifrin tours extensively conducting symphony orchestras particularly featuring his GRAMMY-nominated repertoire of "Jazz Meets Symphony," a series in which Mr. Schifrin's longtime involvement in both the jazz and symphonic worlds come together.