DAVID DANIELS, Voice Judge
"To say that he is the most acclaimed countertenor of the day, perhaps the best ever, is to understate his achievement. He is simply a great singer." - The New York Times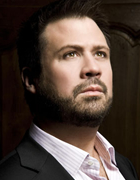 David Daniels, Chairman of the Voice Jury for our inaugural year, is returning as a member
of the Voice Jury. He is known for his superlative artistry, magnetic stage presence and a voice of singular warmth and surpassing beauty, which have helped him redefine his voice category for the modern public. The American countertenor has appeared with the world's major opera companies and on its main concert and recital stages.

He made history as the first countertenor to give a solo recital in the main auditorium of Carnegie Hall. The Chicago Tribune has called Daniels "today's gold standard among countertenors." Gramophone magazine acknowledged his contribution to recorded excellence as well as his expansion of the repertoire for his voice type by naming him one of the "Top Ten Trailblazers" in classical music today.

Two highly anticipated European recital tours highlight David Daniels's 2009-10 season, taking him to Frankfurt, Tampere, Finland, Paris, Belgrade, Berlin, London's Wigmore Hall, and the Prinzregententheater in Munich. He returns to Houston Grand Opera as Arsamene in Nicholas Hytner's renowned production of Handel's Serse opposite Susan Graham and makes his debut with Atlanta Opera in the title role of Gluck's Orfeo ed Euridice conducted by long-time collaborator Harry Bicket. Concert engagements include a special tour of Handel's Messiah and Bach's Christmas Oratorio with the celebrated Canadian orchestra Les Violons du Roy conducted by Bernard Labadie in Montreal, Quebec City, New York City at Carnegie Hall, and Los Angeles' Walt Disney Concert Hall. Mr. Daniels collaborates with Maestrio Labadie again later in the season in Bach's St. John Passion for his Chicago Symphony Orchestra debut.

Mr. Daniels was born in Spartanburg, South Carolina, the son of two singing teachers. He began to sing as a boy soprano, moving to tenor as his voice matured, and earned an undergraduate degree from the Cincinnati College-Conservatory of Music. Dissatisfied with his achievements as a tenor, David Daniels made the daring switch to the countertenor range during graduate studies with George Shirley at the University of Michigan.