CAROL VANESS, Voice Judge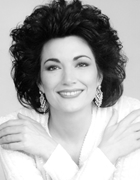 Carol Vaness, returning for her second year on the Voice Jury, was born in San Diego, California. Her professional singing career as a lyric soprano was launched in San Francisco and at the New York City Opera where she appeared regularly from 1979 to 1983. She has sung on all the stages of the world and participated in all the premiere music festivals. Based mainly at the Metropolitan Opera since 1984, Miss Vaness has collaborated with today's foremost conductors and directors on numerous television broadcasts throughout North America, Europe, and Japan and compiled a distinguished catalog of recordings.

Miss Vaness' interpretations of Mozart's dramatic heroines, including Fiordiligi in Così fan tutte, Donna Anna and Donna Elvira in Don Giovanni, Countess Almaviva in Le nozze di Figaro, Elektra in Idomeneo, and Vitellia in La Clemenza di Tito, have been hailed as definitive. She has recorded them all.

Miss Vaness made her professional debut with San Francisco Opera and has been acknowledged as the world's leading interpreter of all the Mozart and Verdi heroines. In 1997, she became the soprano with the distinction of opening San Francisco Opera with Tosca more than any soprano in the company's history. She has appeared as Vitellia, Donna Anna, Desdemona and Violetta at the Met Opera, Paris Opera, Royal Opera, Covent Garden for Queen ELizabeth, Chicago Lyric Opera, Gran Teatro del Liceo, and the Salzburg and Glyndebourne festivals with Sir Bernard Haitink, Sir Jeffrey Tate and Sir Colin Davis among many others.

Among her many celebrated television appearances, she has been featured with Luciano Pavarotti, Placido Domingo, Alfredo Kraus, and chosen by James Levine, Riccardo Muti, George Solti, Christoff Eschenbach, James Conlon and Erich Leinsdorf in "Live from Lincoln Center" telecasts at the MET and Avery Fisher Hall. The Richard Tucker Gala was recorded live with Maestro James Conlon and baritone Sherrill Milnes. She was chosen to perform at the White House with members of the New York City Opera and ten years later in a COMMAND PERFORMANCE for President Boris Yeltsin and President George Bush on the night of the famed arms agreement between Russia and the United States.

Having become a spirited interpreter of Puccini's Floria Tosca, she performed the role at the Metropolitan Opera in 2004 opposite Luciano Pavarotti and had the honor of being chosen by him to be his TOSCA for his last performance at the Met in 2006.

She is currently a full professor (PHD) of Voice and Opera at the exclusive Jacobs School of Music at Indiana University.